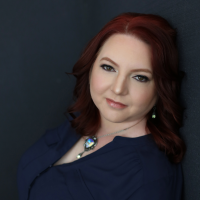 Jamie A. Waters
Paranormal Romance, Romance, Science Fiction, Fantasy
Jamie A. Waters is an award-winning writer of science-fiction and fantasy romance. Her first novel was a winner of the Readers' Favorite Award in Science-Fiction/Fantasy Romance and the CIPA EVVY Award in Science-Fiction.

Jamie currently resides in Florida with two neurotic dogs who enjoy stealing socks. When she's not pursuing her passion of writing, she's usually trying to learn new and interesting random things (like how to pick locks or use the self-cleaning feature of the oven without setting off the fire alarm). In her downtime, she enjoys reading on her Kindle, playing computer games, painting, or acting as a referee between the dragons and fairies currently at war inside her closet.
Never compromise your values.
Steve Maraboli